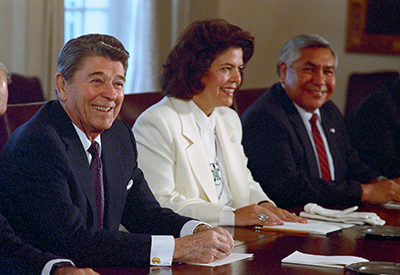 WE REMAIN
Image: Principal Chief Wilma Mankiller meets with President Reagan, December 1988
US policy on Native Americans resulted in the Dawes Act of 1887 and the Curtis Act of 1898, which systematically dismantled Cherokee Nation government and its communal way of living by forcing Cherokee people to sign up for parcels of land, or allotments. The allotment process separated families and communities, again displacing Cherokee people. The legislation required Cherokee Nation to shut down its government by 1906.
Over the next several decades, the US government appointed "chiefs for a day" if a tribal leader was needed. In 1970, President Richard Nixon prompted a shift in federal Indian policy. Under the principle of self-determination, Cherokee Nation's government was reinstated. In 1971, Cherokee people elected a principal chief for the first time in nearly 70 years.
Today, there are three federally recognized Cherokee tribes: the Eastern Band of Cherokee Indians in Cherokee, North Carolina; the United Keetoowah Band of Cherokee Indians in Tahlequah, Oklahoma; and Cherokee Nation, the largest tribal government in the United States, with more than 360,000 citizens. Through the development of businesses such as gaming and entertainment, aerospace manufacturing, and information technology, Cherokee Nation has an economic impact of more than $1.5 billion annually in the state of Oklahoma.
Cherokee people celebrate their heritage and strengthen their Nation through programs in education, health care, self-help initiatives, and community involvement. The government of Cherokee Nation is providing its citizens with the tools they need for success and a high quality of life for many years to come